Being involved in a family law matter can be one of the most trying times of a person's life. Whether it is a divorce or a request for custody, a financial matter involving alimony, child support, or the division of a retirement account, the sale of a home or a car, and everything in between, emotions are high. Many people have misconceptions or assumptions about family law that, while they seem to work out on television, are not how judges apply Florida law in actuality.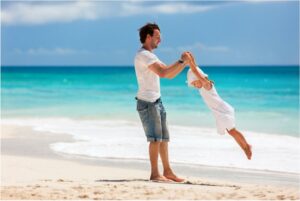 PART 2 of our 2 part series on Misconceptions in Family Law is about Paternity or, rather, the circumstances when 2, un-wed people, have a child. Below are 3 misconceptions about paternity that I hope will clear up some questions or clarify some assumptions you may have while being involved in a paternity matter.
3 Misconceptions About Paternity
If the father's name is on the birth certificate, he is deemed the child's father for all legal purposes and is entitled to parenting time and must pay child support.
One of the most common misconceptions is that, in the case of unwed parents, if the father's name is on a child's birth certificate, that he has all the same rights and obligations to the child as the mother. This is not the case. In Florida, a signed and notarized affidavit or a court order is required to actually establish paternity, child support, and a parenting plan or timesharing. Unless and until paternity is established, the putative father has no obligation to support the child and has no legal right to have parenting time.'
If you do not pay child support, you do not get to see your child.
Child support is not tied to timesharing, nor is timesharing used as an "award" for paying child support. While child support is a factor to consider in a paternity case, and able-bodied parents should be supporting their children, timesharing is a separate matter. Unless a court finds that timesharing between a child and a parent is dangerous or, otherwise, not in that child's best interests, a parent is entitled to time with their child, regardless of whether child support is being paid or is current.
If your child is sick, you do not have to send them for parenting time with your ex-partner or spouse.
 False! Often, I am faced with a parent who has refused to exchange the child for timesharing because the child is sick. Unfortunately, the child's illness does not preclude you from following the parenting plan. You cannot pick and choose when you believe it is appropriate for your child to be with the other parent. The other parent is likely more than capable of taking care of the child if the child is sick, and will be able to bring them to a doctor or provide appropriate medication.
Questions? Contact Us Today
"*" indicates required fields