Legal Profession's Most Prestigious Rating Service Recognizes Kirkner Family Law Group, P.A. Principal, Kristin Renee Hayes Kirkner with AV.
Tampa, FL – June 8, 2015 – Kirkner Family Law Group, P.A. today announced it has received notification from Martindale-Hubbell that Kristin Renee Hayes Kirkner has received a Martindale-Hubbell® Peer Review RatingTM.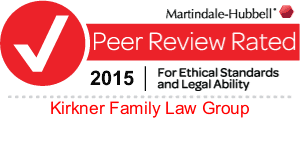 Kristin Kirkner was given an "AV" rating from her peers, which means that she was deemed to have very high professional ethics and preeminent legal ability. Only lawyers with the highest ethical standards and professional ability receive a Martindale-Hubbell Peer Review Rating.
The Martindale-Hubbell Peer Review Ratings evaluates lawyers based on the anonymous opinions of members of the Bar and the Judiciary, including both those who are rated and those who are not. The first review to establish a lawyer's rating usually occurs three years after her first admission to the Bar.
Martindale-Hubbell conducts secure online Peer Review Ratings surveys of lawyers across multiple jurisdictions and geographic locations such as Tampa, Florida, and in similar areas of practice such as divorce lawyers and family law practices. Reviewers are instructed to assess their colleagues' general ethical standards and legal ability in a specific area of practice.
The Martindale-Hubbell® Peer Review Ratings™ help buyers of legal services identify, evaluate and select the most appropriate lawyer for a specific task at hand. The confidentiality, objectivity and complete independence of the ratings and attorney reviews process are what have made the program a unique and credible evaluation tool for members of the legal profession.  The legal community values the accuracy of lawyer peer review ratings because they are determined by their peers – the people who are best suited to assess the legal ability and professional ethics of their colleagues.
The Ratings Explanation
Martindale-Hubbell® Peer Review Ratings™ reflect a combination of achieving a Very High General Ethical Standards rating and a Legal Ability numerical rating. A threshold number of responses is required to achieve a rating.
The General Ethical Standards rating denotes adherence to professional standards of conduct and ethics, reliability, diligence and other criteria relevant to the discharge of professional responsibilities. Those lawyers who meet the "Very High" criteria of General Ethical Standards can proceed to the next step in the ratings process – Legal Ability.
Legal Ability ratings are based on performance in five key areas, rated on a scale of 1 to 5 (with 1 being the lowest and 5 being the highest). These areas are: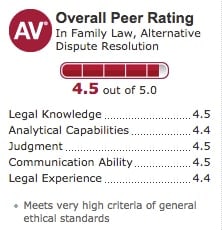 Legal Knowledge – Lawyer's familiarity with the laws governing his/her specific area of practice(s)
Analytical Capabilities – Lawyer's creativity in analyzing legal issues and applying technical knowledge
Judgment – Lawyer's demonstration of the salient factors that drive the outcome of a given case or issue.
Communication Ability – Lawyer's capability to communicate persuasively and credibly
Legal Experience – Lawyer's degree of experience in his/her specific area of practice(s)
The numeric ratings range may coincide with the appropriate Certification Mark:
AV Preeminent® (4.5-5.0) – AV Preeminent® is a significant rating accomplishment – a testament to the fact that a lawyer's peers rank him or her at the highest level of professional excellence.
BV Distinguished® (3.0-4.4) – BV Distinguished® is an excellent rating for a lawyer with some experience. A widely respected mark of achievement, it differentiates a lawyer from his or her competition.
Rated (1.0-2.9) – The Peer Review Rated designation demonstrates that the lawyer has met the very high criteria of General Ethical Standing.
Martindale-Hubbell Peer Review Ratings were created in 1887 as an objective tool that would attest to a lawyer's ability and professional ethics, based on the confidential opinions of other lawyers and judges who have worked with the lawyers they are evaluating.
About Martindale-Hubbell
     Martindale-Hubbell's (www.martindale.com) 140-year-plus history began in 1868, when lawyer and businessman James B. Martindale first published The Martindale Directory. Its stated purpose was "to furnish to lawyers, bankers, wholesale merchants, manufacturers, real estate agents, and all others…the address of one reliable law firm, one reliable bank, and one reliable real estate office in every city in the United States…"
By 1896, The Martindale Directory included the basic information that still appears in our lawyer and law firm Profiles, as well as ratings and a section on foreign lawyers and firms.
In 1930, the Martindale Company purchased the publishing rights to Hubbell's Legal Directory, which contained a digest of state laws, court calendars and a selective list of lawyers and firms. The following year marked the first edition of the Martindale-Hubbell Law Directory; a two volume set that combined the features of both predecessor publications.
Today, Martindale-Hubbell offers solutions for both professional and consumer markets. Our online destinations contain profiles for over one million lawyers and firms in the United States, Canada and 160 other countries, serving as a fundamental legal resource and marketing tool.
Schedule your consultation today with one of Tampa, Florida's best family law attorneys! Fill out the form below or simply call our office to schedule your consultation.
If you'd like to read more, or write your own review of Tampa divorce attorney Kristin Kirkner, we invite you to do so at Google+ or Yelp.
Questions? Contact Us Today
"*" indicates required fields